Survival Store
"Living With the Earth:
Building an Earth Sheltered Home"
$25 plus $5 S&H
By popular demand, we have created a manual that describes in detail the building of the earth sheltered home and office of the Tennessee Center for Survival Studies.
This manual is packed with new information, additional pictures, building tips, a floor plan, and construction diagrams. Additionally, all of the information concerning earth sheltered homes on this web site is included in the manual.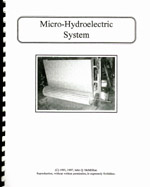 "Micro-Hydroelectric System"
$25 plus $5 S&H
This manual describes: an overview of the system, how to determine the flow of your creek, the design and construction of the turbine and the nozzle (including pictures of the turbine construction), provides dam construction techniques, and describes in detail how to modify a Delco car alternator to produce Alternating Current.
This comprehensive package also includes professionally drawn turbine, nozzle, and dam construction plans. This instruction manual contains all the vital information you need to build your own, personal, hydroelectric power system!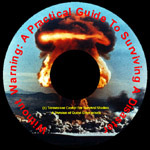 "Without Warning:
A Practical Guide To Surviving A Disaster"
$25 plus $5 S&H
This electronic book covers 11 disaster specific situations: floods, fires, hurricanes, tornadoes, winter storms, earthquakes, droughts, meteorite/asteroid impact, volcanic eruptions, radiological (including nuclear attack by another nation or terrorists group), and hazardous materials accidents, (including chemical/biological terrorists attacks).
No part of our nation or the world is safe from disaster. The best we can do is be prepared for the worst and pray for the best!



Tankless instantaneous water heaters save money and are more energy efficient than tank type water heaters. Click here to find out more.
The magazine that started a revolution!
Click on the magazine to learn more!
---
A united America stands tall.
---

Please click the return button only if you entered this page from a search engine and do not see a menu at the left of the page.




Disclaimer Of Liability And Warranty


Quest Enterprises specifically disclaims any warranty, either expressed or implied, concerning the information on these pages. We will have no liability for loss, damage, or injury, resulting from the use of any information found of this, or any other web page we have created.

Quest Enterprises®
5840 Brights Pike
Russellville, TN 37860

Copyright ©1996 - 2010 All Rights Reserved